Learn the Art of Digital Music Recording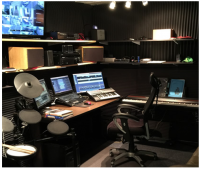 Learn the Art of Digital Music Recording
Hands-on instruction with digital music composition and recording software
Learn Cuebase, Reason, Ableton and other powerful digital music recording software as well as fundamentals of music recording, theory, midi sequencing and audio engineering. We pick up from what you already know and help you achieve your creative goals and ambitions.
Perfect for beginners and intermediate level producers.
Space is limited to 6 - 8 each class session
Cost: $150
8 weeks with group lessons and mentored lab time
Offered in both Portuguese and English
Become a professional music producer.
Learn about:
Audio Engineering
Music Recording
Midi Sequencing
Advanced Production Techniques
File Formats
Timeline Management
Sample and Bit Rates
Frequency and Pitch
Arrangements
Music Theory
Digital Effects
Signal Flow
Synthesis & Oscillation
Mixing & Mastering
Spatial Positioning
Hardware and Software Platforms