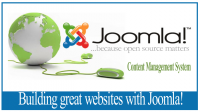 Building Cool Web Sites from Scratch
FREE Monthly Workshop
This is an ongoing workshop, if you are new we will get you started and if you have participated before we will help you pick up where you left off.
This workshop covers core principles for creative design, content management tools, and building effective online communities that can help you thrive, communicate or interact with your targeted audience.
We will explore the fastest way to get started using a Joomla CMS, and give you a clear road-map for building and maintaining a website. We will provide you with resources for learning and show you where to seek help to achieve superior results.
If you have a website, need to build or manage one for your company or for an innovative new idea, this is a great workshop for you.
We looking forward to sharing the coolness of Joomla and how it has inspired millions to do fun, useful and interesting things with web tech.