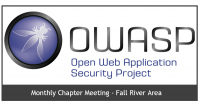 OWASP Monthly Chapter Meeting - Fall River Area
Hey folks, GREAT NEWS!
This monthly meetup for our Open Web Application Security Project [OWASP] Chapter of the greater Fall River Area.
Food and beverages catered by Thirsty Joe's Café with special thanks to our sponsors and the OWASP foundation.
Learn more about OWASP here: http://www.owasp.org or https://www.owasp.org/index.php/Fall_River
We will be inviting other guest speakers and presenters at our monthly meetings and perhaps plan an annual security training event that reaches out to our entire region.
In our ongoing presentations and workshops, we will include hands-on opportunities to learn key principles around personal privacy and security for online applications through penetration testing and treat analysis. We will explore known vulnerabilities, hacks, and best practices to secure your online assets. Learn how vulnerable you are, how easy it is for hackers to invade your systems and how to use tools that can help you track, monitor and protect. Learn about some great resources such as books, events, and networks to connect with for taking an aggressive stance on improved web security or personal privacy protections. Join in the follow-on roundtable discussions and social interaction.
Who should attend: Online business owners, developers, hackers, webmasters, managers and security professionals.