Details
There is a growing phenomenon of leaders being forged from the Fall River community Through an international learning program called Toastmasters. For a little over a year the Fall River Innovators Toastmasters Club of Fall River has been building a solid membership of community leaders and professionals interested on improving their public speaking skills. This relatively new Fall River club and it's members have been achieving awards and have accomplished the honor of "Select Distinguished" status.
This inviting club not only offers a solid curriculum for improving valuable skills in leadership and public speaking but offers a community of mentors geared for uplifting confidence and providing a platform for professional development.
Fall River's Toastmasters Club has had some remarkable success since it began in 2015. Within the first year of creation two of its valued members, Michael Batista (President of the Club at the time) and CJ Ferry (Director of membership at the time), received the District 31 Triple Crown Award. In-order to receive this award one must earn the Competent Communicator Award (CC), earn a Competent Leader Award (CL), and then earn any Advanced Award (ACB, ACS, ACG, ALB, ALS). These criteria must be earned in the same Toastmaster year with no exception.
Now the Fall River Toastmasters Club has done it again with another founding member and original sponsor of the club's initiation receiving an award. Stepping up and earning the Triple Crown Award is Christopher Nielsen who also serves on the leadership team as the club's Sergeant at Arms and is the first recipient this season. Christopher is the owner of the Business Innovation Center, which hosts the Fall River Toastmasters Club on the 2nd and 4th Thursday of every month from 6pm to 8pm.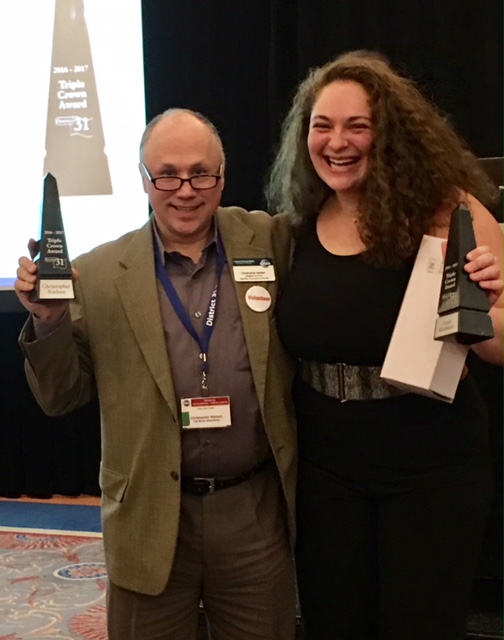 When asked about the success of the club he said,"It is exciting to see how much of a confidence builder this program provides to its membership. It has been a privilege to see how so many folks involved have made such a noticeable improvement in their abilities to communicate as well as take on new responsibilities with confidence, respect and enthusiasm. It is a real honor to have achieved the Triple Crown award and I could not have done it without the support and encouragement of the club mentorship. I found through my participation that I was able to improve on my listening skills, better organize my thoughts and grow professionally. To top it all off, it is a great group of people that I can now call friends. Each meeting is loads of fun and filled with all kinds of surprises." Mr. Nielsen was presented this trophy at the District 31 Conference that took place on the 28th and 29th of October at the Sheraton Framingham Hotel and Conference Center. This was an emotional event for the Fall River Toastmasters Organization who were able to compete very steadily with the other Toastmasters Clubs that have had far more time to establish themselves.
The Fall River Innovators Toastmasters Club is always looking for more diverse and motivated members to join. Mr. Nielsen and the club officers have been focused on creating an inviting and unintimidating environment that everyone can feel welcomed and engaged. "There are so many awesome and unique people who get to tell their story when on stage. There is nothing more rewarding then to be apart of that and witness their transformation" says Mr. Nielsen. As the membership for the Fall Rivers Toastmasters Club continues to increase, so will our outreach programs into the community and continued success. Help us in spreading awareness for all of these wonderful opportunities and come check out what all the hype is about!