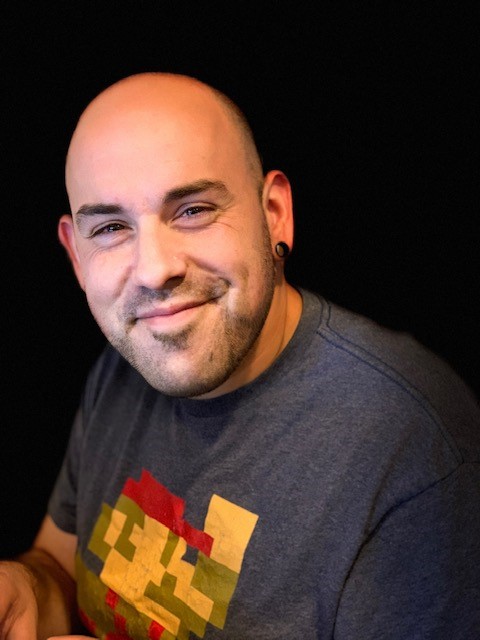 Chris Rodriques - Thirsty Joe's Café Culinary Genius

Christopher Rodriques' passion for food has consumed the last ten years of his professional life when he first enrolled in a culinary program at Bristol Community College where he would later graduate Cum Laude. He quickly realized his future in the food industry and made his mark at Johnson & Wales University where he would later graduate Summa Cum Laude. Throughout this time, Chris became known for his entertaining and unique pairing of foods that would slide down your throat, leaving you in a heavenly oasis, something not often found within classroom walls, but within the soul.

This Fall River chef encountered an opportunity which brought him a step closer to fulfilling his lifetime dream of running his own café. Deep within the heart of Fall River, he helped design the culinary menu around "Thirsty Joe's, Café for the Hungry Mind." The trendy café is tucked into the first floor of the Business Innovation Center at 385 Columbia Street in Fall River, Mass, where his creativity surrounds the most exquisite pizzas, topped by none other.

The café reaches beyond great food and thirst quenching beverages, it feeds the minds of local entrepreneurs and businessmen while providing a popular spot for locals who want to indulge in local coffee and cuisine. "Our café highlights local favorites, such as Custom House coffee, providing a sustainability in the area by using local resources. we look forward to being an integral part of the future of Fall River and the BIC." The café is reminiscent of the streets of Europe, with sleek furniture that was hand-selected and revived just for the café's intimate space. Chris' culinary masterpieces of exquisitely crafted pizzas bring fresh produce, coupled with flavorful coffee, pastries and the soon to be famous "Muf-kins", right to locals in the Historic Cultural Corridor near the heart of Downtown Fall River.
To not only enjoy a discounted rate, but also the full resources the BIC offers, various levels of memberships are available, which is sure to fit perfectly into any entrepreneur or business person's budget and schedule. In addition to membership discounts, the café will also offer events designed to unite like-minded individuals in the café for personal and professional growth, while connecting over pastries, pizza, and coffee.
Chris has several credentials and training from SafeServe to Allergen Awareness to ensure the best preservation of food, safety, and equipment. His careful attention is spent ensuring the oven and refrigeration temperatures are optimal while maintaining the ambiance of a European bistro tucked away in the heart of Fall River.