"Soup for the soul-survival kits"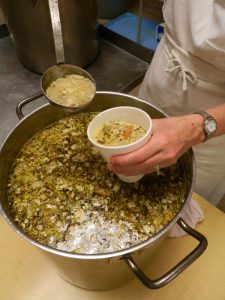 We are currently gathering donations and supplies to offer our essential "Survival Kits" including groceries, food, toiletries, masks, hand sanitizer, and more... Each kit will also include hot soup prepared at Thirsty Joe's Cafe".
This program is currently by appointment only. For more information please email This email address is being protected from spambots. You need JavaScript enabled to view it.

Thirsty Joe's Cafe in the Business Innovation Center at 379 Columbia Street, Fall River, will be offering these "Soup For The Soul-Survival Kits" via curbside pick up and limited delivery.
These kits are intended for vulnerable and immigrant families and individuals in our Greater Fall River community.
Registration required: If you would like to make a request or know someone in need of a "Soup For The Soul-Survival Kit" (SFSSK) please fill out the form linked below.
Click here to Register for a Pickup
We need your help!
If you can or know of someone that can donate time or supplies to this program or someone in need please contact us with the information below.
Special thanks to our many donors, volunteers, and sponsors:
Blount Foods
Episcopal City Mission
Business Innovation Center
Thirsty Joe's Cafe
Donna Miller
Sony Fernandes
Christopher Nielsen
Scott Boland
Marisol Concepcion
Lizzie Renolds
First Lady Things
Home Depot
The Brasil Coffee Shop
Rose Burato - https://www.facebook.com/brasilcoffeeshopfallriver
American Patriot Sales
Lavesques Meats - Paul & Nadine
Laura Bradley
Domino's Pizza
Fall River Rotary Club
Lucas Furtado
Tony David - www.rederadios.com
New Life SOCO Fall River Church
Karla Otoni -Servicos Notariais / Tradução
Miriam Amaral Grossi
Advogada Amy Long - https://www.facebook.com/loaal1/
SER Jobs team - Cristina and Maria
Marion Institute - Elizabeth Wiley www.marioninstitute.org
Door Dash Food Delivery Service
Sid Wainer & Sons Specialty Foods
The Soup for the soup for the soul survival kit program is currently serving 120 vulnerable and immigrant families in the greater Fall River communities.
*As of June 2nd, we have distributed over 275 food and grocery "survival kits" along with over 650 hot soup and bread meals. Included in our pictures below; Lucas Furtado has been working day and night 3D printing face shields for first responders, hospitals and food pantries. So far he has produced more than 300 shields from our 3D printing lab at the BIC.