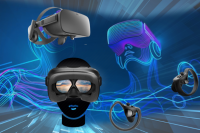 The BIC VR Lounge is calling you!

Whether you are new to Virtual Realty [VR], curious about VR or a pro at it, just come out and have some fun in the Business Innovation Center's new VR Lounge Nights.
The BIC VR Lounge will transport our guest through different dimensions. Our guest may find themselves exploring the world from France to Egypt, Brazil to Alaska, or have a close encounter with strange creatures, our guests may find themselves exploring far away galaxies aboard a starship as a member of the Star Trek of the bridge crew. In the world of Virtual Reality, anything is possible from facing dinosaurs or giant critters to riding roller coasters, to standing on top of Mount Everest or climbing Mount Kilimanjaro. Anyone can reach the mountaintop or visit tropical islands. Come have fun with other like-minded individuals.
For a limited time, experience FREE Virtual Reality time at the BIC VR Lounge during VR Nights, and visit the Business Innovation Center CO-WORKING, CO-CREATIVE space, and Learning facility. Business Innovation Center members have free access to the BIC VR Lounge with prior reservation.